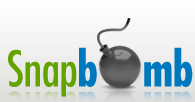 I am a SnapBomb member!

Finally...
Hello bloggers out there!
Wanna earn extra cash while blogging? Try SnapBomb - Your Buzz Machine!
Just create an account with them then submit a blog (or blogs) and you will right away know if your blog is accepted after a few minutes, afterwards wait for 24 hours to let snapbomb compute the value of your blog. Finally and most importantly grab some opportunities offered to your blog, post and then earn right away. Make hundreds or thousands of dollars each month doing something that you love. Isn't it great??? Take note that you are paid base upon your blog value. The higher traffic, the higher value offered.

SnapBomb is using paypal to transfer funds, so do not forget to have a paypal account.
It's just so simple! The process is so easy. (You could see my post about how to create an account of PayPal). The submission of post is likewise easy, just write some reviews, copy and paste the post URLs and you are done. You could make your way to blog marketing as well as blog advertising, just like that!
So, what are you waiting for? Visit their site and be a member as well! Just click the image above to take a tour at SnapBomb.

Goodluck, mates..