Last night I couldn't sleep.. so I stand by at my blogs the whole night and do blogwalking..
I arrived at this gorgeous blog with beautiful template..
Mbak Li's blog aka Ekspresi Diri
....
She gives us free awards to grab!! What a very kind women she is!



Here are the awards... beautiful aren't they?

First award :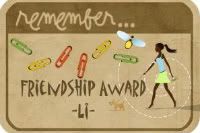 Next awards :



If you guys want to grab these awards, simply go to Mbak Li's blog..



Once again, many thanks, Mbak Li... God bless u!!!